One week ago today Brenda Gaddi was giving her opening remarks for Digital Parents Conference 2013. One week ago today I was sitting there thinking '6 months work as Session Co-ordinator and we're finally going to unleash it all over 2 days'. One week ago today I got the phone call about 3 minutes into Brenda's opening address from my 7 year old son's school telling me he has a bad fall and may have broken his arm.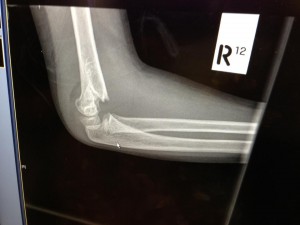 At that moment all I could think was 'today? It had to happen today?' Mr M was also contacted so he was all over it. Going to the school, picking up our son taking him straight to emergency.
Meanwhile the two of us are trying to find someone who could take our 3 year old while this madness was unfolding. My mind drifted away from the conference.
As I sat through the Blogging With Adversity session I was receiving text messages from Mr M advising that yes it was definitely a broken arm and it most definitely looked like it would need surgery. Seeing the x-ray of said broken arm broke my heart.
At this point I was conflicted; my professional self was saying 'keep your shit together; there's still a conference going on here' while my mothering side was saying 'my poor little boy; he must be freaking out and in so much pain'.
But listening to Rachel from Mummy Muddles, Tiff from My Three Ring Circus and Lori from RRSAHM brought me back into line. My son has a broken bone; my son has his father with him; my son is in a hospital where they are managing his pain and putting together a plan of action to sort this mess out.
Rachel, Tiff and Lori have harrowing stories to tell. Mine is not harrowing.
I left the conference to see my son (my mother cub side); I went back to the conference to present my session on producing video posts (my professional side).
That evening I did a shift change with Mr M; he went home to be with our other kids and I did the overnight shift at the hospital with my newly operated on and very sore 7 year old.
The next morning I was thinking 'I don't care about the conference; somebody else can look after it, I'm EXHAUSTED!".
And then I looked at the twitter feed for #DPCON13, The Myth of Having It All session was on, I could see from the feed that there was healthy debate going on in the room.
What got me at my core was Lisa Lintern's tweet "The desire to be with your child and the ambition that fuels a career are terribly conflicting emotions. But they are very real."
That tweet encapsulated me right at that moment. Lisa may have been talking women fighting the good fight on a daily basis but right in that moment I had a son who needed a parent and I had conference I worked damn hard on for 6 months happening without me.
And to be honest, I wanted BOTH. I wanted to look after my son; I wanted to be at the conference.
If this really were an either/or issue then of course I would choose my son. But I still wouldn't feel good about having to miss out on the conference. I've been down that road before.
So I went back to the conference. My son was at home with Mr M and I went back. I walked into the room, talked to a whole bunch of bloggers and watched the rest of the conference unfold.
I may not have been so lucky if Brenda (founder of the conference) wasn't so understanding; and that I truly appreciate.
It's hard for mums to let go. I can't break it down for you and tell you why it is, but any mums reading this right now will be nodding in agreement I'm sure. I had to learn to step back. I had to say that it's okay that I wasn't with my son for the entire duration of the ordeal. His father was with him when I was not. His father would also take a bullet for him. His father was probably feeling just as protective as I was and wanted to there with him too.
The conference in a way forced me to step back and let Mr M step up. This is not a bad thing. This is not something to feel guilty about.
Clint is a stay-at-home-dad who blogs at Reservoir Dad was recently quoted in an article on saying "he sees a role for himself in the blog as a positive way of changing society's ideas about being a dad and parenting generally."
Damn straight.