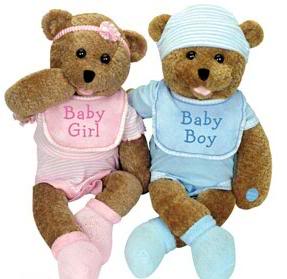 The gender of a baby does matter to some mothers. Gender Disappointment is real.
All you have to do is google 'gender disappointment' or 'choosing the sex of your baby' and you'll find many hits for both topics.
The reality is, parents would like to be able to choose the sex of their baby and if it comes to pass that they do not conceive what they hoped they can suffer from gender disappointment.
Two weeks ago a Melbourne mother made headlines with her intention to travel to Thailand to under an IVF procedure so she could be implanted with a female embryo.
Her desire to have a girl is so strong she is willing to go to such lengths to achieve her dream.
Many people have criticized her decision to undergo IVF in Thailand and branded her selfish, as evidenced in the comments section of the above article.
Currently in Australia using IVF to gender select an embryo purely for family balancing reasons is banned.
Many have suggested that she seek counseling because there is obviously some underlying cause to explain her strong desire to have a girl.
That may be the case, but is it something that can ever be resolved? BellyBelly creator Kelly Winder has this to say.
In this article she talks about gender disappointment and in this forum you can see that some people do not think it is real at all.
Can the desire to have a particular gendered child ever be satisfied or resolved if it is not met?
We all suffer disappointments and have to best deal with them but some disappointments can never be resolved. This may be one such disappointment.
But I ask, what is at the heart of this controversy?
The fact that this woman so desperately wants a girl or that she is going to such extreme lengths to have her desired fulfilled.
To explore that last question further, is it because she is using IVF treatment which has been traditionally used to assist couples with fertility problems achieve their dream of having a child.
These separate issues.
Why the desperation to have a girl? Only this lady can truthfully answer this for herself and any conclusion we all come to is purely speculative.
She has said that she loves her boys and wouldn't trade them for anything, but again, readers have said that she obviously doesn't love her boys, because she wants a girl. Perhaps if she had all girls, she would have a strong desire to have a boy? I don't know.
Is wanting to balance her family reason enough? Is wanting to parent a same sex child reason enough?
Let's face it, we've all heard comments made to parents who have single sex children "will they be going for another to get said boy/girl?"
Even though I already have a girl, I was bombarded during my 4th pregnancy with comments like "I hope it's a little girl so J can have a sister after having 2 brothers".
I had a boy. Even then the comments didn't stop. "J, you were hoping for a sister weren't you?" Leave the girl alone, she's 8. Then we wonder where deep seeded desires come from.
I had one mother say to me, "I was the eldest of 3 brothers; I hated it". Thanks.
But if I had uttered the words, "I'm really disappointed that L isn't a girl", I would have been condemned by the majority of people, if the reaction this woman has received is anything to go by.
Gender balanced families are everywhere; we see it in advertising. How often have you seen advertisements that include a mum, dad, one boy and one girl?
This research paper concludes the presence of at least one girl and one boy enables the symbolization of the full set of intra-family relations, including the presumed special bonds between the mother and the daughter as well as between the father and the son.
So when you are surrounded by it, why wouldn't you want it?
Take IVF out of the equation and the situation would play out one of two ways. This woman can go on to have more children until she has her daughter. This may be financial taxing.
Or she gives up on ever having a daughter and lives with a void that cannot be filled. This may be psychologically taxing.
IVF, as I understand it, is a user pays system. If you can afford it, shouldn't it be available to everyone?
IVF is the unique position of being able to use science to overcome where nature fails (Has nature failed us? That's a whole other discussion). But what are the moral regulations or even implications of IVF?
A vocal concern for allowing IVF procedures to determine which sex embryo is implanted is that the world will suffer a significant gender imbalance. Ethicist Leslie Cannold says that data shows that generally people choose boys and girls.
At which point would a couple be allowed to use IVF purely for gender selection? After having three children of the same sex? Two children of the same sex? First child? Evidenced they have tried to 'naturally' influence which gender is conceived?
There are many, many questions to be asked. And we need to decide who in fact is allowed to set down these guidelines. Who sets the bar?
Value judgements are based on personal experience.
To claim that this woman is being selfish is unfair and short-sighted and ignoring something that is very real for her. How long has it taken to have post-natal depression recognized as something that is very real? Let's not make the same mistake with gender disappointment. It is probably more common than you or I realize.