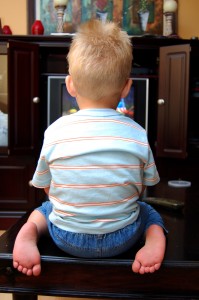 Remember when Mem Fox made headlines when she likened putting babies into childcare as child abuse? Well you can imagine the public outcry at the unfairness and inflammatory nature of her comment. Is she right? Well that's for others to decide.
Now my youngest is no longer a baby. He's about to turn 2 in a month. And I'm a WAHM. I use that term loosely because I engage in contract work, so there are times when I'm just a SAHM.
But the for last few weeks I have been undertaking some contract work that not only took longer in terms of weeks to complete, but also the daily hours that it required. For the first time in a long time I was working full time hours.
Yes it was all here at home, I didn't need to travel anywhere and my toddler remained in my full time care. Now I use the word care loosely too.
Because while he may be have been here, I may as well have been somewhere else for the amount of time I spent with him. Mostly, he was left to his own devices. And often, when his siblings were home, they would be the ones to look after him, allowing me to get on with my work.
When I say look after him, for example in the morning because they all get up before I do, they would put some dry Cornflakes in a bowl for him or give him a biscuit if he felt hungry, or get him some water.
I just couldn't get a handle on my hours and running the household and looking after the kids. Mr M stepped up where he could but he too works full time hours. And to be honest, I was totally unprepared for the onslaught full time work would bring.
So what kind of effect has this had on my kids? Well the older 3 are fine. They've always been pretty good at getting themselves ready in the morning or getting their own afternoon tea. And they understood that this was a short term contract and everything would return to 'normal' soon.
But for my toddler, well I really dropped the ball with him. It's not his siblings place to replace me as primary giver and he felt largely ignored. How do I know? Because now when he's feeling frustrated he just screams. Loud! Now I know all toddlers have their tantrums and maybe this is just coincidence, but deep down I don't think it is a coincidence. I really believe that this is a direct reaction to feeling left out, ignored and possibly bored.
So now I need to spend time to develop new habits with him. I know I can do it.
But I realised, that if I were to work full time hours, even if it is from home, my toddler would be better off in childcare. He would be better off in a place where there was someone there dedicated to looking after him, playing with him, feeding him.
I mean I fed him obviously, but I didn't stimulate him at all these last few weeks. The ipad became my babysitter. And yes while he worked out how to play Angry Birds, which you could argue has some mathematical and scientific merit, it's not really the best form of stimulation; not for an extended period of time.
My toddler also learned to climb onto the kitchen counter and even started ripping pages out of books; all because I wasn't watching him closely enough. While he was in the next room, I was on my computer.
Now I'm not going to say that this experience is true for everyone; but I know for my toddler these last few weeks I did him a disservice. I don't know if any of my other kids would have reacted in the same way at the same age. I don't know if my toddler would have reacted differently if he was say closer to 3 years of age and not 2.
But I do know that for him right now is a crucial time for someone to be here just for him. It could be me, it could be a carer. Which ever it is, his needs have to come first.
And there are no hard and fast rules, one size does not fit all.
Related post: Childcare; Heartbreaking