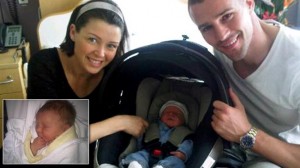 Last week Danni Minogue gave birth to her first child.  Her planned home-birth went awry and Ms Minogue was transferred to a hospital to deliver.  The end result, happy healthy mother and child.
But the controversy sparked up again the safety of home-births.  See this article in The Punch.
From what I have read this was a planned home-birth with a midwife not a free-birth where the mother labours on her own with no midwife assistance.
Personally I think the debate over home-birth versus hospital birth is futile.  For every study you find stating that home-births are as safe as hospital births, you will find another that states it is riskier.
Danni Minogue opted for a home-birth but when it was decided that she would be better off in a hospital, she went.  I'm not entirely sure what the controversy is.  I would imagine that whatever complications she encountered wasn't due to geography.
She did the right thing.  She put the safety of herself and her baby first and got herself to hospital for medical attention.  She should not be condemned for having a home-birth but applauded that she didn't leave it too late to get to hospital.
And just to be frank, I find it really annoying that home-birthing seems to be another one of those either/or scenarios; you are either for home-birthing or you are against it. I'm not entirely sure the situation is that simple, nor black and white.
Women are going to want to birth at home. It's not for everyone, it's not for me but I don't feel like I have the right to judge. I'm not a policy maker, but if I was I suppose it would force me to choose a side.
However, I visited the Joyous Birth website and these women and nothing short of passionate. But they use very strong emotive language and after a while I felt like I had to defend my choice to birth in a hospital under the care of an obstetrician.
The insinuation that because I chose a hospital birth I had checked my brain at the door, and the caregivers couldn't give a hoot about me or my baby, is plain offensive.
If you are a woman who wants the choice to have a home-birth that's fine, but please do not attack those mother's that do not wish the same.
You might find that even though women choose hospital births, they may champion your cause; but not if you condemn them for their choices because they differ to yours.
What I have found on both sides of the argument are sweeping generalizations with very little evidence to back it up. All obstetricians are more interested in their golf days and home-birthers are selfish mothers.
I am fairly confident neither is true.
What is apparent is the gap between a home birth (with a backup hospital booking) and a straight-from-the-word-go hospital birth is so wide that if home births go wrong, perhaps mothers feel they can't seek medical help because they will be given a hard time.
Is it possible that some women don't seek medical help sooner because of fear of how they will be received in hospital? As that selfish mother who wanted a home-birth? That's a huge shame if it true because that in turn makes hospitals complicit to complications in birth.
Or do home-birth mothers want to give birth at home no matter what?
An article featured on the smh.com.au website stating that Doctors, fearing they will be sued, are refusing to prescribe drugs or order tests for women who want to give birth at home, and this is forcing mothers to give birth in hospitals or putting lives at risk, midwives say.
Obstetrician's being accused of being too worried about being sued so they favour caesarian sections? Well who is to blame for that?
Hospital or home births, things can go tragically wrong. The fact that litigation is a talking point simply shows me that it has become mainstream to point the finger and insist someone 'pay' for a less than favourable outcome.
We all agree that a mother needs to feel comfortable and safe in her surroundings to assist the labour and birthing process – home or hospital. And as my obstetrician once said to me, a well informed mother rarely makes a bad decision.
Below are some other news articles.
Home birth program that delivers
Government backs down on homebirth legislation
Home birth triples neo-natal death risk: study
Midwives get costly reprieve for home births
Law to stop midwives working outside hospitals
A home birth is not a safe birth
Home births a lonelier option due to midwife insurance risk