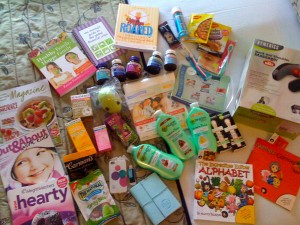 Last weekend I flew into Melbourne to attend a Weight Watchers sponsored blogger's brunch hosted by Christie Nicholas of Kids Business Marketing & Public Relations on Friday morning followed by pre-conference drinks Friday night, said conference on Saturday and naturally post conference drinks.
It's been quite a while since I lived it up like this; in a networking fashion that is.
You see for a long time I was a Stay-at-home-mum and then a Work-at-home-mum. But it's the At-Home-Mum that always seems to stick in people's mind.
Now I don't have to tell you that an at-home-parent is generally low in the 'what do you do' stakes. And why do I say that? Because just about every stay-at-home-parent will get asked 'do you plan on going back to work?'
Over the last year or so parent bloggers (at the moment, predominantly mothers) have exploded onto the blogging scene.
And why? Well simple really. Just because we have decided to stay at home, doesn't mean we have checked our brains at the door. Oh no. So we blog.
And there has been a shift in the importance of these parenting bloggers. People like Christie Nicholas from Kids Business (who hosted the Blogger's Brunch) can see the merit in getting companies whose target market are the parents, the at-home-carers and putting them together in a room.
This is an example how public relations and marketing is shifting in their approach to reach their target audience. When you think about it, 50 parents all together at the same time tweeting about their experience makes for a lot of chatter.
And blogging has changed; it's no longer just a hobby. It can be a source of income, which is fantastic news for parents who want to work from home. Because let's face it, returning to work isn't always ideal or possible.
Christie organised for five women to speak to us.
Olympian Melinda Gainsford Taylor talked to us about her struggle with body image which had most of us sitting in our chair thinking, "I'm sorry what? You don't have an ounce of fat on you." But just goes to show that no-one is immune to these insecurities.
Nicole Avery, author of Planning with Kids, which was born out of her blog of the same name; Heather James from Inspiring Mums; and Susan Jackson from Ms Money gave us awesome tips on how to keep our goals within reach and how to do it in splendid footwear.
Bernadette Black, author of Brave Little Bear, shared with us probably the most thought provoking advice that her teacher shared with her. "The journey may be different but the destination can stay the same".
And that is comforting to know since most of the mother's had burgeoning careers and now we are just all on a different path but the destination can be the same.
So with that warm and fuzzy affirmation we were presented with six companies who had a host of goody bags to hand out to us mummy bloggers for review.
Million Dollar Woman is a company designed around the unique and specific financial needs of women.We're here to help mothers, daughters, wives, sisters, and girlfriends embrace financial security and independence.
Garnier, Take Care; Bless them for their Anti-dark Circles Roll-on. It's the simple things that make a difference to a tired mother's day.
Blackmores must have sensed I have been stressed because they quickly supplied me with a Women's D-Stress vitamin supplement along with a host of other vitamins for my husband and my kids.
As I type this post I have a Homedics Neck and Shoulder Massager with Heat on my shoulders. It's fairly lightweight and I use the low setting for the vibrating massage but the heat setting is what is what sells it for me.
When I returned home from Melbourne I realised I completely forgot to buy souvenirs for my kids. My older two were okay with that but my five year old? No he was not okay with that. This is where I have to thank Aunty Rozzy who gave us a fantastic goody bag that included two books; The Incredible Edible Alphabet and Nanna's Carrots that includes a CD. My kids are from Italian descent to we'll just change the title to Nonna's Carrots.
Protect-A-Bed gifted us a Waterproof Terry Pillow Protector which I passed onto my 8-year-old son. He suffers from eczema and sweats profusely when he sleeps so this should help my son sleep more comfortably. My son looked at me with a scrunched up face and simply told him he will thank me in the morning.
And to top off a fantastic morning me and some other bloggers including Kate (Kate Says Stuff), Becky (Becky and James) Danni (hello owl) and my partner in crime for the morning, Jolie from Hey Bambini got to be the test audience for these products while being filmed by Melbourne Channel 31 tv show Room To Grow. I knew all the right things to say…I really did. Well I'm at least sure of it even thought I can't remember a thing I said.
Next post. Nuffnang Blogopolis Conference Wrap up.