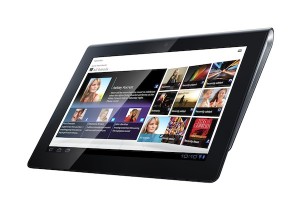 You know when you get offered a brand new Sony Bravia Smart TV (HX850 LCD TV)  and a Sony S Tablet for a week for a review, it's kind of hard to say no.
We don't own a smart tv. We own an Apple TV which kind of makes our current tv a smart tv but….not. Oh and the Sony tv is a 3D tv. The tv I own is definitely not.
The kids were excited; my geeky filmmaking husband was excited.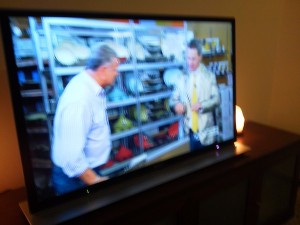 When the tv and tablet arrived I didn't spend too much time with the tablet because I was too busy checking out the tv. But the tablet did have a cool feature where you can take photos with it and 'throw' the image up onto the tv screen.
Now the one thing I did do with the tablet was take some photos and transfer them onto my laptop. I wanted to do this without having to read the manual because I wanted to see how easy and instinctive the functionality was; it took a couple of minutes but I did it. It's kind of a litmus test for me.
Oh the other cool thing with the tablet is you can control the tv from the remote app. That was a source of amusement for me to irritate Mr M. He'd turn the volume up and I'd turn it down. I can be childish like that.
Now the first thing I did was watch an episode of Miami Vice in 3D. Don Johnson's pastels held up, as did his pensive draw of his cigarette coupled with a sideways glance before stubbing it out with conviction as he walks towards his Ferrari.
If only I had the presence of mind to try out my Top Gun DVD on the 3D setting.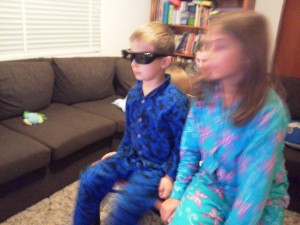 But the glasses did feel a bit heavy after a while and you have to sit front and middle to the tv for the 3D to work well. But watching our 3D Narnia Bluray was sensational. It's a shame our Sony Blu-ray player wasn't a 3D player.
But here's the nifty thing, because our Blu-ray player is a Sony whenever it was switched on the tv automatically switched to the HDMI channel it was programmed to. It's a small thing but it counts.
Just like the fact that it only uses one remote to access all the entertainment channels. Again a small thing but if you're a mum with a baby or a sleeping toddler or just plain tired you don't want to have to get up to find an extra remote; or to dust another unit.  I can't believe I'm that person that I care about dust, but here I am.  Uncluttering the tv unit is a goal of mine.
There were two entertainment channels to access movies. One was Quickflix (which is a subscription based channel) so it didn't matter how many movies or tv shows I watched, it was all in the one price. Mr M and I watched the entire 3rd Season of Entourage over two nights with a bottle of pinot grigio to keep us company. That made me happy.
Or there was the second movie channel, Video Unlimited, where you paid a rental fee for each movie rented.
I loved the streaming music channel, Music Unlimited. There were channels categorized by genre and era. There was on 80's music channel; this made me smile. And with each song that played a bio of the artist accompanied the song that I enjoyed because I love music trivia.
Now the Sony Bravia TV has a channel called Mosh cam which has rock concerts to watch. It's the one channel I didn't get to watch but wish I had.
My 2 year old found The Wiggles channel and Mr M was not happy having to hear The Wiggles. My 2 year old didn't care.
You can Skype, use internet, Facebook and Twitter and all from the tv. And it has the free-to-air stations catch up channels like ABC IView, SBS on Demand, Plus7, Ten. It also has dedicated channels for You Tube and videos from smh.com.au.
The tv has a USB port so if by chance there's something you want to watch that isn't on the Smart TV, you can use your USB no dramas.
Now when the TV was set up all we needed to do was connect to our Wifi but at times I found it slow and sometimes wished I did just plug in a cable just to get this working faster.
I didn't think I would care too much when the tv had to be returned but I did I missed it in the days following. Can you become addicted to a tv?
But specs aside, I remember when I had a newborn being up in the middle of the night, there was nothing but infomercials on and we didn't have Foxtel. Being able to watch an episode of Entourage or Sex and the City or anything while feeding or settling a baby at 3am may be a sanity saver.
I just like the convenience of not having to go to the video shop to get a movie. Especially on those rainy days or when you have a sick child.  These aren't sexy selling points but those times when you are able too utilize it, it's a godsend. Remember, it's the small things that count.
Alex aged 9
What I liked about the Sony 3D TV is the definition and its fancy silver plate on the bottom and how the TV is set on an angle to see it better. That's what I liked about the Sony 3D TV.
Christian aged 6 and a half
What I liked about the Sony 3D TV is that we can rent movies on it and change 2D TV to 3D TV.  I also liked the glasses. I like the tablet, the way it's shaped and that we can take photos on it.  I love the sony tv.
Jordan aged 11
The Sony 3D TV was very cool. I liked all the different settings and the way the guide allowed you to see the different channels and we could flick through the rest of the day and the days to follow. The set-up was clear and not too complicated. Changing original TV to 3D TV was awesome.
The tablet's shape was useful the way it had a fold back to put on a coffee table and easily control a TV. The easy way to use a tablet with simple controls.
Enzo (Mr M) aged 35 
The picture quality on the Bravia was pretty much as expected – hard to fault. Set up was pretty simple too. Couple of screws to fix the panel to the stand and everything plugged straight into the copious HDMI ports.
I thought the range of internet content on offer was quite good (though I found myself wondering how often some of them would get updated in terms of content), but the whole smart TV aspect was let down a little by the interface. Quickflix, for example, felt a bit clunky via the TV remote, and typing a youtube search via the remote was kind of painful. I found myself wishing the Sony tablet had a remote app installed that allowed me to type via that surface onto the TV.
I was pretty impressed with the 'faux 3D', which made any broadcast or 2D image into 3D. It did a respectable job – I would have expected non-3D to look pretty average when 'dimensionalised'.
I was not paid to write this post. The television along with the tablet were on loan to me for one week and I had free access to all the content available on the television.