So remember when I was telling you that I'd love to try out the Carbon Fibre Turbine Head for my Dyson?  Well from my bloggy words to the offices of Dyson, they sent me a DC54 Allergy Dyson Barrel Vacuum cleaner to trial.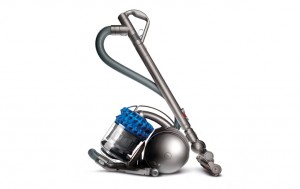 I know, I don't usually talk vacuum cleaners and I'll be honest here when I say that I'm not about to start vacuuming the house more because I own a Dyson, but bloody hell it is nice to actually have something work….properly.
Like I said in my earlier post I had purchased a DC54 Multifloor with a Musclehead, which was a great purchase because it was picking things up that my el cheapo vacuum cleaner was not. But I had a problem with hair….my daughter's long hair. The Musclehead tool was not coping with it.
Hence my desire to trial the Carbon Fibre Turbine Head. I don't usually get excited about household appliances but Lordy this baby looks like a machine.
In fact the entire DC54 Allergy vacuum cleaner looks pretty spectacular.  The blue contrasting with the red is pretty. But I digress.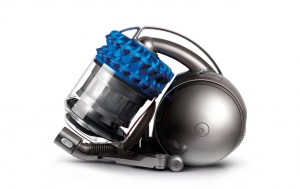 The first thing I noticed is that the DC54 Allergy is a little noisier than the DC54 Multifloor but I think that has to do with the head tool (ie Musclehead versus Carbon Fibre Turbine head).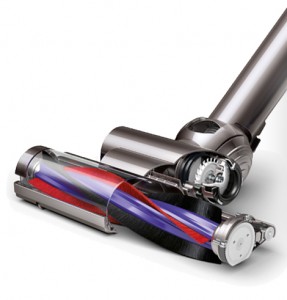 The Carbon Fibre Turbine head has 2 brushes that spin as you vacuum so it brushes through the carpet flicking up dirt and most importantly, my daugther's hair.  It didn't roll the hair up into a little ball; it just sucked it right up.
After one use I noticed that more dirt was picked up using the DC 54 Allergy. Now the Carbon Fibre Turbine head is kind of bulky so it doesn't go under furniture very easily but for us it's not a big deal to just move the furniture.
Oh and here's a community service announcement. Make sure shoelaces, toy rubber snakes (anything long and skinny) are put away. I vacuumed next to my husband's sneakers and the shoelace got sucked up very quickly and it was twisted. The Dyson suffered no damage but the shoelace had seen better days. That's how powerful these Dyson cleaners are.
If you are going to buy a Dyson, I do recommend you go for the Allergy or Animal range because my carpets did feel nicer, fluffier even, after using a vacuum cleaner with the Carbon Fibre Turbine Head and you get extra attachments that you don't get with the DC54 Multifloor like the Mattress tool to help get rid of dirt and dust mites from mattresses and upholstery.
We are a family of 6 so it doesn't take long for crap to end up on the floor or under the cushions of the couch.
Disclaimer: I wasn't paid by Dyson to write this post but I did receive a couple of attachments.