So we've all had those moments of panic. The "what have we done?" panic.
I get them. All. The. Time.
Usually it's in that weird 'I'm not quite awake, I'm not quite asleep mode'; usually first thing in the morning.

And I will have the most random panic attacks about things that I've been doing successfully for some time.  The other day I had a sudden panic attack because I have 4 children. 4 children!!! Why on earth did I think I could raise 4 happy, healthy, well-adjusted people???
The thing is, I've been a mum of 4 for almost 5 years now. It's nothing new.  And so far, nothing has gone wrong so why this sudden panic that it all will?
These panic attacks usually pass as I wake up and remind myself that there is nothing to panic about. Nothing changed since yesterday.
My best guess is that my subconscious is readying me for the fact my youngest is starting kindy next year. It's a big change and I think well I've been lucky that the first 3 kids managed starting school with no great stress.
How am I doing psychologists? Am I onto something?
And, tell me psychologists, do we fear change?
"They" always say that change like moving schools or moving house or family separation is particularly hard on kids. It can be very stressful for them.
Is it because kids don't have enough life experience to deal with this change?
And what about adults? Why do we sometimes hesitate to embrace change? In fact, why do I have, in those early morning 'not quite asleep, not quite awake' moments, thoughts that moving to London for 12 months is just too much trouble?
Is it because getting to the point where you've 'laid down roots' the thought of starting over again is overwhelming?
But who is the real me? The midday alert one (embrace change) or the early morning dopey one (fear change)?
And I suppose that's why I panic about being able to raise well-adjusted kids. I'm not well adjusted!!
The people surrounding you also affect you.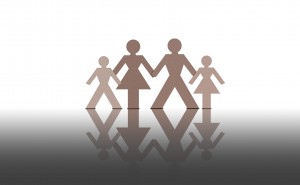 Growing up, my parents were risk-averse; or so I thought.
They tried to teach us to be risk-averse. In fact, they often thought that things would definitely go wrong so best to not try anything. As a consequence I'm very good at crisis management – helloooo PR major!
I will often have about 6 contingency plans.
Having risk-averse parents has also had the opposite effect. I've often wanted to throw caution to the wind because coming up with 6 contingency plans is hard work.
What's the worst that could happen I ask myself? If I can live with worst, then everything else is a bonus.
I remind myself that you don't get to 40 without some life skills to sort out any problem that comes your way.
Aaaarggghhh!
But the thing about my parents, while I only ever saw them being risk-averse, they took a mighty big risk when they migrated to Australia in the 50s. They each travelled here on their own; to a country where they didn't know the language and knowing that they may never go home to Greece for a very very long time.
It took a long time for me to see how big that risk was. I don't know why. It's not like I didn't know their story. I suppose I didn't appreciate their story.
When people find out that we're thinking of going to the UK for 12 months, they have all been supportive. I haven't come across any 'doubters' yet but I'm sure I will. 'Doubters' tend to be family and friends closest to you. The ones that are really invested in your life tend to start asking those hard questions. I'm going to be kind and say they are not trying to be critical; they're just trying to make sure that everything has been covered.
And that's when the panic sets in.
My 11 year old is participating in public speaking this week and his topic is "Wisdom Comes From Experience".
So we all sat around talking about the difference between wisdom and knowledge.
We defined knowledge as understanding the necessary steps to achieve something.
Wisdom is all the good stuff you pick up along the way. You can't get wisdom from a book.
Robin William's character says it best in Good Will Hunting.
"I can't learn anything from you I can't read is some fucking book".
In fact the whole scene is brilliant. Watch it.
Wisdom comes from experience. Experience comes from taking a risk, taking a chance. Taking a chance gives you life skills to deal with….well….life. The more life skills you have the easier life is. The less scary it is. The less panicked you'll be.
And it won't be a question of  "what have we done?"
But a statement; "Look at what we've done."