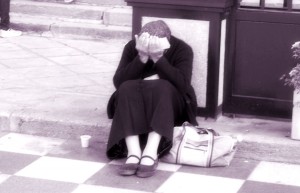 Annie from Life and Dandelions posted on the weekend about her the heartache she felt for her boys when she and her husband divorced. Those words leapt off the page and anyone reading the post would have felt heartache for her.
Lori from Random Ramblings of a Stay At Home Mum has blogged about her husband's death and the aftermath of it all while raising two small children.
Or Jayne Kearney from The Best of All Possible Worlds blogged about her daughter Sienna and how her death actually pushed Jayne into pursuing her writing career.
Bianca Wordley from Big Words discusses depression.
We all have sorrow and pain in our lives. And it is generally these parts of our lives that can have the most impact.
Because when things are going along swimmingly then not much has to change.
But my question to you is, would you change anything if you could?
Obviously the death of a loved one…absolutely. No life lesson is greater than having that someone with you.
But what about all the other stuff? I know for me there is one thing I would change. I was immensely disappointed at the time and still am. I'm not sure it has made me a 'better' person for it. Maybe it's too soon to tell.
In a recent post of mine I wrote how we manage to rationalise events and moosh them into a way to fit our lives because that's how we stay sane when things don't quite work out the way we planned.
As parents we try to shield our children from unnecessary heartache. Is there such a thing as necessary heartache?
But are we doing them a disservice? We all know that we need to let our children go out there and make their own mistakes and learn from them. But what's too much?
This line of thinking has plagued me for quite a while now.
And no doubt parents will always make mistakes with their children.
But I suppose the difference is dealing the tragedy as an adult is different to dealing with it as a child. Isn't this the catch 22? In order to deal with tragedy you need some experience with it.
For example, Dr Katrina Warren has said that a child who owns a pet that dies has the ability to deal with death a lot better in their adulthood.
Does tragedy have a place in our lives? Many people say that in times of tragedy we stop and reset. We take stock of what we have and we are thankful for all the good things that we may have taken for granted or simply ignored.
But again, is that just a reaction to a horrible situation; a reaction to help us stay sane?
We are who we are because of love, loss, tragedy, triumph. We are the sum of our total parts. To take one away, would undo all the rest. That's what I tell myself; that's how I stay sane.
Related post
Who am I? Who are you?