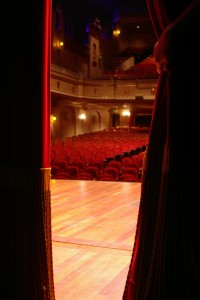 Last year my daughter performed in the Inner West Performance extravaganza, spectacular, eisteddfod whatever you want to call it.
It was a group of schools from the area banding together to put on a show.
We were ridiculously excited when our daughter came home to say she was in the choir. It may have been a small role but who cares?
She was pretty excited and her preparation included about half a dozen rehearsals and 4 live performances.
So it wasn't too disruptive to our day to day running of the household.
On the night of the show we did have a bit of trouble finding where my daughter was sitting. You see she was in the mammoth choir that was the backdrop to this show.
It took us a while but we found her. For a while we weren't sure because everyone looked the same.
Anyway, lights go down and then the show began. These 8, 9, 10, and 11 year olds came out and they there singing, dancing, acting and they blew me away. They were spectacular.
You could see the talent and no doubt the work that had gotten into developing their performing skills. Obviously they were dedicated because no-one just falls out of bed and acts like a future Tony Award winning performer.
And then I started thinking. What the hell have we been doing with our time? I mean these kids were on the fast track to being successful performers.
In a way, I felt guilty because I never pushed my daughter to engage in more performing arts activities that she already does.
I know, I should follow her lead and never push. But how many of us have said, "I wish my parents pushed me a little more; I wish my parents didn't let me quit piano, tennis, singing lessons".
I know I'm not made of champion stuff. But should I let my complacency impact my kids?
And then of course you don't want to be accused of living vicariously through your kids. Bad. Very very bad.
But some time has passed and the excitement of adrenalin rush from the show diminished and well those thoughts of "my child could be a star too" faded away.
I have to confess, I like how not crazy my life is.
But far out it is easy to get caught up in the spectacle of it all as it's happening in front of you.
These kids were good. And when you think it could be your son or daughter up on that stage….well…… I feel a tiger mother moment coming on.