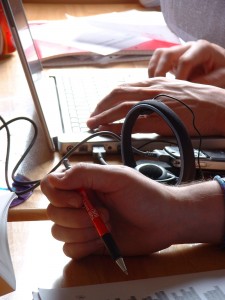 Reader's of this blog (has a more tossy line every been written? Mrs Woog?)
So you may have been furnished with the knowledge that Mr M recently co-produced and co-wrote an Australian feature film The Tunnel.
It premiered on 19 May 2011.  In the weeks leading up to the release Mr M was up to his eyeballs in it.   Day and night, weekdays and weekends he spent finishing The Tunnel.  And not just the film itself but all the publicity, premiere preparations, finalising the DVD release, the online release, and so on and so forth.
No doubt you can all appreciate that everything needed to be dealt with at the same time and all due yesterday.  Not to mention, nothing ever goes to plan so when things went wrong some hair pulling and rocking back and forth in the foetal position was required.
So, for those few weeks I would often tell the kids to try and not disturb their dad because he was in the middle of some very important work right now and he needed to give it his full attention.
Now I must have said that sentence one too many times because one day while I was working on my blog and Mr M on his film, our 5 year old son was faced with a dilemma.  Which parent should he interrupt?  He stood between mine and Mr M's desks for a couple of minutes looking at us, turning left and right.
Finally he came up to me and said, "Mum I need help but I can't ask dad because he's doing important work right now so I have to interrupt you".
I sat back in my chair, looked at my son, then looked at my computer screen and then glanced over to Mr M.
I have to be honest, my initial reaction was "kid, I don't get all day to work on my blog, my minutes are precious. Can't this wait? I know my blog doesn't bring in the big bucks like daddy's movie but MY BLOG IS IMPORTANT TOO!"
Thankfully, I do have a filter between my brain and my mouth and what I actually said was "Sure honey, what do you need?"
And as I got up from chair I started thinking, how often do we fall into this trap of diminishing our own work and elevating the importance of somebody else's?
Mothers have a knack of putting themselves last.  We just do.  Half the time we may not even realise we do it and the other half we probably don't even like doing it.  We just do it because our some sort of instinctive mother nature, obligation type reaction.
And even though Mr M and I strive to show our children that we are both equal in our marriage, if my 5 year old son hadn't put it out there for me, I may never have realised that I was unknowingly guilty of it.
It must be an easy trap for fall into.
It just goes to show that what we are saying and what we are communicating aren't always the same thing.