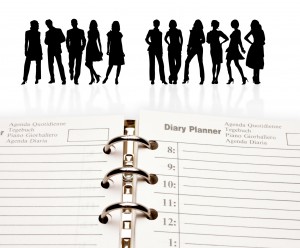 If I look at our family's weekly timetable I could easily get depressed. You know what I mean; training, dance lessons, music lessons, school run, homework etc etc bladdidy blah blah.
Whose timetable am I running on? Certainly not mine. I know, I know, this is what happens when you have children.
But I'm finding more and more that my children's activities are kind of inflexible. I must fit around their timetable. What's that? You used to go to Fat Burning aerobics class on a Wednesday? Not anymore, soccer training is on. Maybe you can go to the Gentle Exercise class on Monday morning. But Gentle Exercise doesn't burn fat!!
Okay, rewind. How did we get here? Well when a mummy and daddy love each other very much…. Too far? Okay.
It's a rhetorical question. I know how we got here and I understand that I have the power to change it. Even though right now I feel like I'm a slave to it.
I do get satisfaction that my children are happy with their activities. I know I'm carrying resentment from the fact that my parents rarely let me do activities out of school; and my children weren't going to be subjected to that kind of crap. It's soul crushing, it really is.
I know that this is for a finite time; one day soon….ish….kind of…maybe not that soon…. I will have more free time than I know what to do with.
I understand all that but I was recently invited out to dinner with some friends and the first thing I did was check the calendar to make sure that a) Mr M hadn't emailed me with something and b) the kids didn't have some sort of party going on.
There could have been a c) do I have anything on, but who the hell we are kidding? Okay, a bit dramatic, I do have some sort of social life….is….kind of….maybe….
And the irony of all this is the kids think they are running to my timetable. Grocery shopping, homework, dinner, school, bedtime.
So no-one in this house thinks they are running to their own timetable. We think we are dictated to by someone else. What is that all about? Is that just perception? Or have we royally screwed this up?