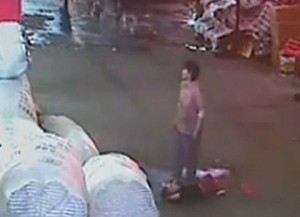 The news story this week has to be the tragic loss of Yue Yue.
The 2 year old toddler who was run over twice by two separate trucks and then ignored by 18 passers-by before someone noticed her. What a horrible horrible way for Yue Yue to be treated. The moral and ethic code of China has been a talking point this week but my mind immediately goes to an image I saw a few years ago in Marie Claire of a newborn baby girl laying dead in the gutter and people seen stepping around her.
@MsDovic remarked on twitter that Australians can also be just as heartless when her boys were calling out her name in a shopping centre and no-one stopped to help them. She never actually lost sight of her boys but she was amazed that no-one gave them a second thought.
How we treat our children will steer the direction society will take in generations to come.
Kylie Orr wrote an opinion piece on pregnancy reduction on Essential Baby.
This is an article that featured in the New York Times on August 10 2011 about a woman who chooses to abort one of her twins, but keeping the other.
And to illustrate the ultimate sacrifice, a woman, in the United States, who was told she had cancer chose to forgo treatment while she was pregnant to give her daughter a chance at life; ultimately sealing her own fate. A couple of weeks after Stacie Crimm delivered her daughter she died.
Kind of puts the pregnancy reduction issue in its place.
Life; we are granted it, and then we tend to take it for granted.
Life; how we treat it is indicative of the moral code that society abides by.
Life; what do you make of it?