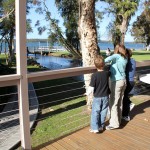 A few months ago Caroline (@Big4LakeMac) who works at the Big 4 Lake Macquarie Monterey Tourist Park contacts me through twitter and says 'we've got some new accommodation here and are looking for families to give us feedback. Would you be interested in a promotional stay and tell us what you think?'
Ummm…let me think about that for about 2 seconds…..YES. Who doesn't like a weekend away? So a weekend away we had.
Now being a family of 6 we sampled a few holiday parks in our family's history.
Three reasons:
1. More likely to find accommodation to fit all six of us.
2. Generally within driving distance of a capital city; for us, Sydney.
3. Can be more affordable than a flying holiday.
Not that I don't like a flying holiday. This time last year we did a driving holiday in Victoria; the Great Ocean Road and Melbourne.
But back to the Big 4 Lake Macquarie.
So it was Father's Day weekend and when we drove up to Lake Macquarie. It took us about 70 minutes to get there which isn't too bad at all because sometimes getting to Bondi from where I live will take 70 minutes simply because of traffic….and then there's parking….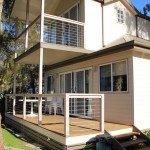 Caroline, who works there on the weekends was truly a gracious host. She put us in the new 'top of the range' cottages that are located right near the water; beautiful way to wake up in the morning.
There was a small stream that ran past the cottage and this is where we first met Mother Duck and her ducklings. They really are a feature because of the next 2 days we constantly saw the Duck Family around the park.
And I thought to myself, those ducklings are very obedient. They always follow mum and don't easily get distracted by something bright and shiny and start walking off in a different direction. I wish my children could be more like ducklings.
I digress…
The cottages have 2 levels. The top level is a loft bedroom for the parents; queen size bed, ensuite and television. When you've got 4 kids like me, a second tv is a godsend….as is the second bathroom.
When we first walked into the cottage we were pleasantly surprised at how nice it was. It was hotel nice. My 8 year old asked if we could order room service because rooms this nice usually have room service.
The second bedroom also had a queen size bed and a set of bunk beds so it will comfortably sleep 4. But my 4 kids all wanted to sleep together so they slept width ways on the queen size bed.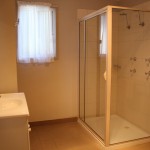 Even the double shower in the main bathroom was brilliant. It instantly halved the bathing process.
And the air-conditioning both upstairs and down. Ah….
And linen was provided – Not all holiday parks provide linen; and carting linen around for 6 people just sucks.
From the bottom balcony you had a perfect view of the lake in front of you and the main grassed area where the kids spent a lot of time playing soccer. From the top balcony I could easily keep an eye on them while they played on the playground. I felt very comfortable letting my older three children (aged 10, 8 and 6) to run around the place.
There's a walking path right on the water's edge. My 2-year could have easily ended up in the drink; but that's because he's a runner.
Now my 2-year old found the stairs in the cottage no problem to navigate; had he been a couple of months younger that may have been a cause of stress for me.
The communal barbecue area really is an outdoor kitchen complete with fridge, 2 barbecues, stove and the eating area was under cover and quite large. The wind was kicking up in the evening but we were able enclosed the eating area.
The main barbecue area, pool and playground are all centrally located next to each other which helps when you have my kids like mine who all generally want to do different things at the same time.
We didn't have access to the pool because it closed for the winter months but the kids did get to have a go on bikes that the park has available for hire; they hooned all around the park on them.
On Father's Day we drove up to Swansea to visit Caves Beach; because if you're anything like me, nothing beats a surf beach. The drive took about 20 minutes and we timed it right with low tide that you could actually walk into the cave at the beach is named after.
It was a nice quiet time of year to get away. And when we got home we didn't feel like we needed a break from being too tired from the break because the travel time was so short. Here's a clip Mr M put together. Did you know that his first television job was at Getaway?