Kate Pickle this week on Twitter said
I have been to the Drs for myself for the first time in 6 years (not counting pregnancy related stuff)…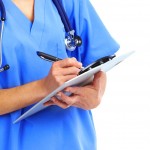 And this got me thinking to a a post I wrote on my other Mum's Word blog titled "Why Don't Mums Visit The Doctor More Often?" in May 2007. Here it is below.
Yesterday I visited my GP for the first time in months. Her practice is in the area I used to live in 3 years ago. Why haven't I changed GP's? Well simply because I don't go that often so a 25 minute drive out to see her once every six months (if I'm lucky) doesn't bother me too much.
But yesterday my list was long…ridiculously long; small little niggly things that just build up over time. I had to corner Mr M so I could go to see the doctor alone.
Why don't I see the doctor more often? Well it is difficult to discuss medical matters with kids around. Why don't I leave the kids with Mr M? Well he works hard and sometimes finding a couple of hours during the week can be difficult. Even yesterday Mr M almost cancelled at the 11th hour but instead worked his little fingers to the bone to make it home in time. He looked frazzled.
So off the doctor I went and discussed my various ailments. A couple of those ailments need to be referred to a specialist and another couple need follow up with my GP.
The thought alone of now having to make appointments with specialists is tiring. Getting a suitable time for the appointment is often difficult and the costs involved in seeing a specialist is a concern. But I can't ignore my GP's advice.
I'm not the only one who avoids or just doesn't get the time to see a GP. Quite a few mums I know are guilty of this too.
Mother's would move heaven and earth to get their sick child to a doctor…why don't we have the same concern for ourselves?