Today was the first walking, and I mean walking all day. I walked at least 80 blocks, including Avenue blocks that are longer than Street blocks.
My hotel is on the corner of 6th Avenue and 53rd street. I walked up to Central Park and wanted to find Strawberry Fields where a plaque lays for John Lennon. Right across from the Dakota Building on 72nd street. The sign upon the entrance into Strawberry Fields is for quiet. John Lennon was anything but quiet in life.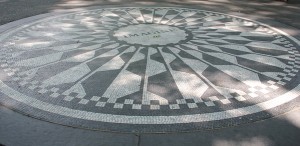 I wonder of Yoko Ono looks outside her apartment window and finds comfort seeing the people stand around the plaque paying their respects?
I then walked across Central Park, took a break to listen to the resident saxophonist it would seem.
What is truly remarkable about Central Parks is that the southern entrance is to the park is Midtown. Now Midtown is one very very noisy place. But all you have to do is walk about 50 metres into the park and the noise level drops dramatically. It is strangely quite a peaceful place.
I end up on the western side of the park and walked all the way down 5th Avenue. There are a lot of flags flying on 5th Avenue. A. Lot.
I walked to Bryant Park on the corner of 5th Avenue and 42nd Street where there was a free midday concert with cast members from the various musicals on Broadway performing some numbers. The cast from Mama Mia performed and people got up and danced. No-one cared.
So I walked down to 34th street to go up the Empire State Building. Thankfully I bought an advance ticket so I bypassed all the queues so it was worth the premium I paid but the lift only when to the 80th floor. I had to walk the remaining 6 floors.  Yay! And then I had to walk down the 6 floors again.
You know what I haven't seen very much of? CD stores. I haven't seen any? I've seen music stores that sell instruments but no CD's. Macy's is a block across from Empire State. It's 9 floors high. J & R (which is like JB Hi-fi) had just moved out. So nowhere on 9 floors of shopping centre could I buy a CD.
So I'm on 34th and figure I can walk that extra bit to Eataly on 23rd and 5th.
By the time I got there my feet were killing me.  I walked in to Eataly and I was blown away. You can probably guess by the name that Eataly = Italy.
It's a mixture of restaurant and deli. There is a separate counter for every food type. And each counter sells food to eat; with seating sections.
There's the coffee as you enter, closely followed by the gelato bar and then the sweets. You go in a bit further you find the cold meats, cheese, bread, and pasta section.
Right the back is a massive woodfire oven for the pizzas.  My tired feet were more than happy to sit at the counter, order a bowl of spaghetti and watch the cooks do their thing.
Thank God for the subway to get me back to the hotel.
Do I give my tired feet a rest? No.
For dinner, Laney, Fiona (fellow bloggers) and I think it would be awesome to walk across the Brooklyn Bridge and have pizza at Grimaldi's just under the bridge.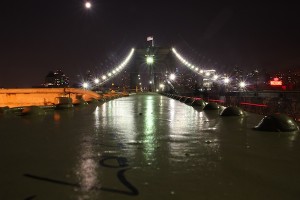 And it's not a leisurely walk across the Brooklyn Bridge. The path is divided into 2 sections. Pedestrians and cyclists. Well there are plenty of pedestrians on there so you have to kind of keep moving along and the cyclists, well, they just fang down their side of the track so you really do take your life into your own hands if you dare cross over.
We overshot the exit off the Brooklyn Bridge.  By the time we hiked back to Grimaldi's it was 10.30pm and almost closing time.
Chris who manages Grimaldi's is quite the character.
"Oh course we'll let you beautiful ladies in", he says. "We always let the beautiful ladies in".
He migrated to America 22 years ago but still speaks with a strong accent.  He is hilarious. When he found out we were Aussies he got very excited.
"This is for you ladies", he says.
And puts on his Australian playlist.  It kicks off with Down Under.  Followed by AC/DC, Midnight Oil and INXS.
Granted that it all music from 20 years ago but that is where the man's heart lies.
He asked whether Australia considered AC/DC as one of our own because the band is made up on immigrants?  Isn't that a loaded question?!?
Oh and the pizza was worth the massive blister on my foot.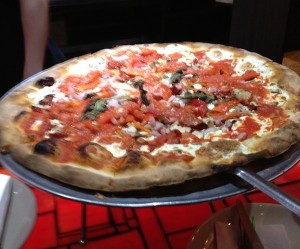 Days 5 & 6 were taken up by the Blog Her conference. I'll post soon about NYC Day 7.