After two days of conferencing I was ready to get back out of the hotel and out onto the streets.
Today I tackled the High Line, Chelsea, Meatpacking District and West Village.
The High Line is a disused elevated train line that has been converted to a park/walkway.  On the west side of Manhattan is starts in Chelsea and ends in the Meatpacking District.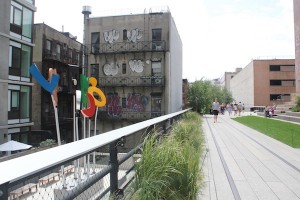 Manhattan being so dense, it seems that any available space is used to add some greenery; much needed greenery.  And there are sections along the way to kick back and relax.
Down the line above Chelsea Markets there were 3 groups of buskers within about 50 metres of each other. First, a trio playing jazz; second a trio playing folk music; third a trio playing Latin American style drums.  In 50 metres, you can hear the music if New York.
The high line ends at the Meatpacking District. An area that I'm guessing is funky for its run down dilapidated appearance and cobble stone streets and home of The Standard Grill (part of the The Standard Hotel) where I had dinner last night.  This place was recommended to me. I recommend it to you.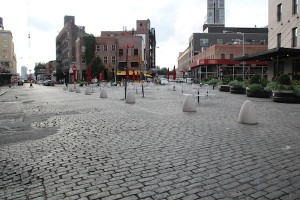 I spent most of the day walking around the West Village. It's not a large area and to be honest, after having spent the last few days in Midtown where everything is on a grid, coming to an area where the streets seemed to have been planned haphazardly, it threw my sense of direction.
I really did get lost in the West Village.  And I found that I was walking a whole lot slower than I do in Midtown. People walk like mad Midtown. And I didn't realize that I've been probably being doing that too.
This part of town feels like a neighbourhood.  It's doesn't scream at you like the rest of New York does.
I happen to stumble upon Carrie Bradshaw's front steps. It's in Perry Street by the way.  The bottom of the steps is roped off with a sign asking that if you take a photo, please donate some money.
So I took a photo and donated some money.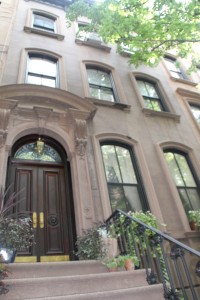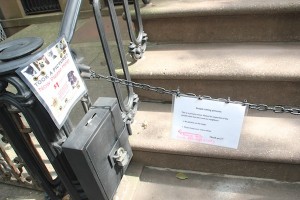 And I found a music shop. I could only take a photo of the outside because no photography is allowed inside.  And this place is packed with LP's; even LP's for new release albums.  And by packed I mean in cardboard boxes stacked on top of each other and all over the place.  But this guy knows where everything is.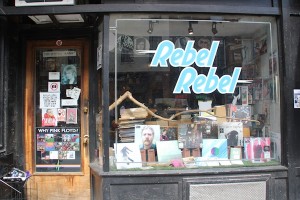 But most importantly, there is no bin juice smell in West Village.  Huge, huge plus.