Yesterday I wanted to tackle Nolita, Little Italy and Soho.
But I was convinced that a slight detour to the Lower East Village for lunch at Katz Delicatessen would be great. You know the deli featured in When Harry Met Sally? Yeah well that plan went out the window because everyone was there. So I'm guessing the food is good, but I didn't stick around.
I headed straight for Little Italy. To get to Little Italy I went through Nolita. (North of Little Italy). The thing with these areas is that sometimes they are so small but it is sometimes so very obvious when you leave one area and enter the next.
It's hard to mistake Mulberry Street, the heartland for Little Italy, for anything else. The shopfronts change, the sidewalk changes. Bin juice smell periodically returns.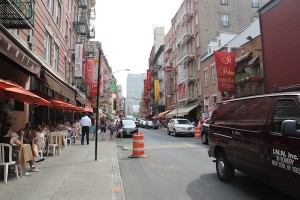 Little Italy is really dense with its shops and awnings.
But just as I reach Canal Street it's like I reach a border. Mulberry Street south of Canal Street is Chinatown.  Now Chinatown is more dense than Little Italy. But I found it fascinating that there was not gradual change; just bang. No more Little Italy.
So I turn right to head for Soho and walk through the Cast Iron Historic District of Soho, where all the shopping labels live. It's very clean here.  Shops with massive front windows and well placed clothes and accessories.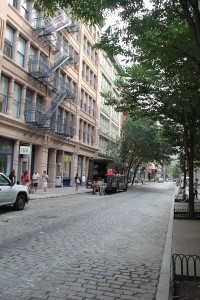 The thing about New York is there are so many places to eat and drink you really need to rely on the advice of others. I have one such other. Amy.
Amy gave me her list of places to eat and drink and so far Amy know her stuff.
Last night Fiona and I had dinner at Extra Virgin in the West Village and then headed to a jazz club named Smalls. True to its name, Smalls is a small converted basement. I sat down, had a wine and listened to some cool sounding jazz.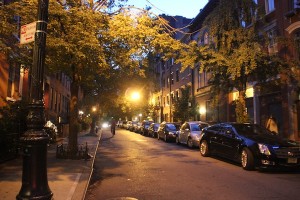 On my last day I took it easy. I think I'm starting to come down. Today I simply walked around, what are now, familiar streets.
The adrenaline is waning but at the same time I feel sad to be leaving.  But I do feel a disconnect to the reality I belong in and it's time for me to go home.
With ½ a day left here in New York and I've only just begun to scratch the surface.