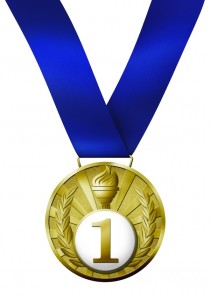 Well I'm not made of sporting champion stuff. Sure I'm coordinated and like to think that I'm quite handy at playing a variety of sports. I'm competitive and thoroughly enjoy playing but I was never a champion in the making.
I just didn't have that drive, commitment or determination to make it to the top….of the sporting world at least.
I've been watching quite a bit of Olympics these last two weeks and I when I think about how much training these athletes go through day after day, year after year, decade after decade to be at the top of their game….I just don't have it in me. But that's okay. At least I'm not sitting here thinking 'if only…'
On Australian television there's a commercial telling the story of the 'unsung heroes'; the parents. If not for the parents getting up at the crack of dawn to drive their future champion to training day after day, year after year, decade after decade then we wouldn't have the Michael Phelps' or the Grant Hacketts of this world trying to rewrite history.
There really isn't anything I wouldn't do for my kids except (there's always one exception to the rule) I don't think I could be that unsung hero taking my possible future champion to training.
I could very well have a future champion sleeping in my house at the moment but I'm sorry to say Australia, we'll never know.
You see, I don't do mornings very well. I never have and I never will. I'm more you're 2am kind of gal. Not 6am. So unless someone could guarantee me that my child will win Gold, I'm not getting up.
Is that selfish of me? Well, it's not like the kids are old enough just yet to show 'real promise' in any particular sport so maybe I'll change my tune. But it would have to be some 'REAL PROMISE' to get me up and going.
Jayne Kearney wrote a post on her Web Child blog about why we become parents. Apart from some anthropological urge to recreate oneself it's a selfish decision.
I wanted to experience pregnancy, birth and parenting. But when does the pendulum swing from a selfish act to a selfless act? Does it ever? Are they the same side of the coin?
My daughter, who is 7, asked for flute lessons. So now I fork out money for a flute and flute lessons because she wants to do it. And I go without buying more shoes. But I want her to do it too. I find immense fulfillment and enjoyment out of seeing her progress. Selfish and selfless.
It's no great revelation that parents do encourage activities that are important to them….and hopefully the children just comply like the good little offspring that they are.
Well my netball days are slowly coming to a close. I'm not as fast as I used to be and I'm not about to get any faster. It is actually quite frustrating when the mind is still sharp but the body just isn't willing.
Maybe I should find out if my daughter shows any real promise in netball. They don't train in the morning.
And thankfully flute lessons don't take place at 7am either.
I just live vicariously through her….but wait….we're not supposed to do that either.
Related posts
Performing Kids Make Me Look Bad
This post was first published on my other Mum's Word blog "I'm Not Made Of Champion Stuff"