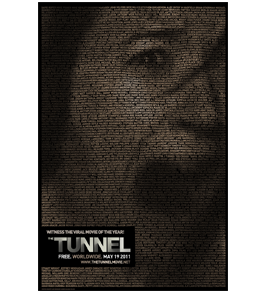 Mr M has recently released his first feature film The Tunnel. He is co-writer and co-producer of this film. Watch it.
But this process has been long and at times arduous. This move has been floating around for about 3 years. 4 if you include the minute Mr M and his business partner, Mr J, decided they wanted to make a film.
This thing has truly been a labour of love.
I've known about Mr M's desire to make a feature since before we were married. I told him to do whatever he had to do but this was the time to do it. No regrets. So with that we travelled down the road of baked beans on toast for dinner and can I say we have mastered the art of being the struggling artist.
But after so many years that included late nights, anxiety attacks, zero bank balance Mr M's dream played out on the big screen on 19 May 2011 and across computer screens worldwide.
"You must be so proud of him", people would say to me.
"Yes", I responded, because it was the appropriate reaction. But something sat a bit odd with me. I didn't feel pride. I didn't do anything to bring this film to fruition. Mr M did. All I did was not stand in his way; I understand that this is a huge contribution, but I didn't put the hours in that Mr M did.
So as bizarrely as this may sound I don't feel pride. To me feeling pride is taking some ownership of the outcome that you helped engineer in some fashion.
I take pride in my children because I am responsible for raising them.
Mr M is his own man who does his own thing and deserves all the credit because quite frankly, I couldn't have pulled off what he did.
Am I excited for him? Yes. Do I think he's awesome? Yes. Is he going to be a success? Yes.
You can download the film for free here and if you like what you see you can buy a frame here… if you feel inclined to help a struggling artist 😉
Or you can buy the DVD which has a whole bunch of extras here
And for more incentive, you can listen out for my fantastic voice work. I'm Pam 🙂



Here's the trailer