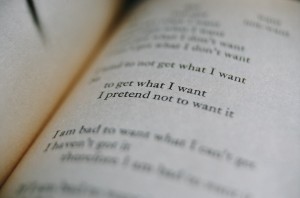 For the last few days I have sick in bed with the flu.  The only thing you can do in a situation like this is to think. It's a nice distraction from the uncomfortable.  Or sometimes, your thoughts can be your worst enemy.
Here's another one of my old posts (originally published July 2008) from my other Mum's Word blog.  This was one of the posts that you just bash out without much editing.  It definitely falls under the category of purge.
I've had a plethora of thoughts running through my head in these last two weeks. A plethora. I like the word plethora. Could I say my life is plethora?
Epiphany is another word I like. It sounds better than revelation. It sounds far more absolute. I like absolute too. So what is with my recent fascination with words? Well it becomes more and more evident that I need to choose the right words to express myself; especially to my children.
Logically we all know that as children grow older, the words we use and the actions we carry out determines the message we convey and the characters we help create. And that is how we end up with a life story.
I often think about my own life story. Mr M says that I should write my life story. I'm not altogether sure why? I haven't done anything exceptional yet and although I didn't have a rosy upbringing it was better than some.
I find it a little disheartening to see so many books on the shelves today that tell horrific stories of childhoods. And they have single word titles such as 'Broken', 'Sold', 'Scarred'.
Joanne Fedler (Secret Writer's Business) has just released a book about domestic abuse titled 'Things Without A Name'. It is a work of fiction but she has a long career in the field of women's rights so this book would have plenty of truth about it. I haven't yet read it.
These are horrific stories that need to be told. My story doesn't fit into these categories but I have had to overcome some shit in my life (forgive the French but that aptly sums it up) to get to where I am. And my journey isn't over but as I get older I can see my flaws. I need to constantly tell myself that I can write and I can write a 1200 word investigative piece with a decent line of argument that some editor will buy. Deep down I don't really believe it, but I tell myself I can anyway.
And who can I attribute this flaw to? My father. He was flawed. He was very flawed. But his flaws have brought out my strengths too. I may doubt that I can write, but then I am determined to give it a go. My strength is perseverance. I wonder whether that strength would have manifested if I wasn't challenged by my father. Does the end justify the means?
I want to be a good parent to my children. But I know I'm not perfect and I can see that my children are disappointed with me sometimes. It was inevitable. I don't get upset about it. If I did then I would be setting myself for disappointment. 20 years is a long time to not disappoint someone.
So I'm wondering whether a little 'hardship' is actually healthy for us as people; to help us determine our strengths, to refine our strengths.
It's fraught with danger I know. A difficult childhood can have devastating long lasting effects. But the stories in the books I mentioned above all have the same outcome; the storytellers came out the other end stronger people.
Legacy is another word I often contemplate. It's meaning. It's importance.
But the older get, the less I know.
I've realized I've come to a point now that I'm going to start having some 'real' conversations with my children. My eldest is 7 now and I can hear her mind ticking over. To be honest the reason I became a parent wasn't because babies are so cute (even though they are); it was to have discussions with my children. Hear what they have to say about the world they live in.
Maybe I should write my story if for no other reason than to give my children insight into their mother.
Plethora….