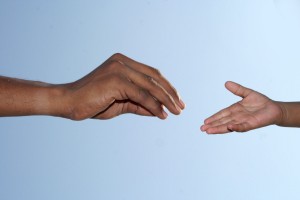 I wrote this post on my other Mum's Word blog on the Orble Network in May 2007. I re-read it again yesterday and found that the sentiment of the post still holds true some days; even 4 years on. So I've re-posted it below.
Sometimes I don't want the responsibility. Sometimes I wish I could just ignore what's going on around me and wait for someone else to fix it. But that someone doesn't exist. I am a parent and part of the job description is being the bigger person, being the responsible one.
I'm writing this post today with 'stolen moments'. Mr M is working from home today which is a huge help in the mornings; it is fantastic to share the breakfast and school run load.
But he is working to a deadline so I can't ask him for help throughout the day; that wouldn't be fair. And for some reason this morning the boys are going 'nuts' so they need a little extra attention.
They are kids therefore by definition, unpredictable. And today is one of those days. So I have to push my 'to do' list to one side so I can referee, discipline, distract the boys.
I didn't wake up in a particularly good mood this morning. I was dreaming and in my dream I was very angry and frustrated. My 4 year old son came in and woke me mid dream and somehow my mood in my dream has transferred to my woken state mood. So I need to do something about that.
Without going into the tedious details of my 'to do' list, it was supposed to give me focus and hopefully lead to a better mood. But the list itself wasn't terribly exciting; laundry is hardly a mood lifter. Now I have to rethink the list, which is only proving to frustrate me more. There's no chance of getting to do any of the 'me' things; write a coherent post, finish some of my other writing. It is just one of those days.
Just thinking about the day ahead feels like a dead weight on my shoulders. A ball and chain around my ankles. But I must persist. I am the parent therefore by definition, the bigger person.