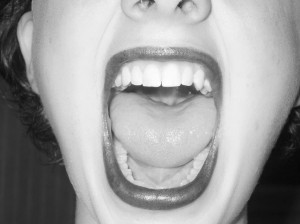 My 8 year old son played his soccer grand final a couple of weekends ago. It's the first time he's made a grand final. Not bad considering he's only been playing for 3 years.
"Some people play sport their whole lives and never experience playing a Grand Final", I told him.
He looked at me blankly. Obviously he hasn't quite grasped the enormity of his achievement.
But I do. I've played competitive sport my whole life and have only in the last couple years given it up. Maybe not forever, but I felt a new kind of frustration in the last competition of netball I played in. You see, my mind is still razor sharp, the body, however, not so.
It really did feel like bizarro world to me. There would be intercepts that I could see coming 5 minutes before yet my feet refused to move. What the hell, feet? This does not make for an enjoyable experience.
What can I say? I am competitive. Not psycho competitive that I sulk if I lose, but out on the court, I put in 110%, body on the line, play hard, at the end of the day… and any other cliché you can think of.
And on my son's Grand Final weekend that adrenaline rush, your senses switched to high, the concentration all came rushing back. And now I was frustrated in a whole new fashion; I was the parent on the sideline.
Don't get me wrong, I loved watching my son and his teammates play. We all experienced a massive sense of pride and honest to goodness happiness.
But man, I wasn't just cheering, I was constantly screaming, "run it up", "support your player".
Those of you who have played competitive sport will know that constant communication on the field is paramount. I was the one who was always talking (read screaming) to my teammates. It's necessary to winning the game.
And also as an avid sport watcher, my tv has been on the receiving end of a thousand comments from yours truly.
I'm not so competitive that I lose my mind over an Under 9's soccer match. They're playing for fun.
But I realized that I was getting excited. This was Grand Final. And I was screaming. I realised that I am one of the screaming parents you all bitch about. It wasn't intentional; I was surprised at myself to be honest.
Recognising my failing, I removed myself from the rest of the parents and stood where there were none and screamed my little heart out; because not screaming really wasn't on the agenda.
Thankfully for me, my voice doesn't project as well as some of the dads so my support was probably carried off with the wind.
The game ended up in a scoreless draw after going into overtime and it was announced that both teams would have the honour of being Joint Champions. And can I say, all parents were happy with that outcome because for one team to score a goal in extra time would have just been heartbreaking for the other.
And I know what it's like to lose a grand final; that involves a whole other kind of screaming.