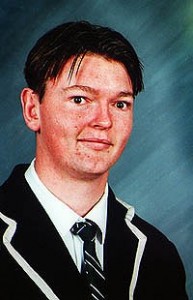 Peter Savage was murdered in 1995 when a couple of kids who tried to "roll" him for his wallet. When Peter laughed at them and kept walking he was stabbed. Why? Well apparently "if he wasn't such a dickhead we wouldn't have stabbed him", one of he accused said.
Peter Savage had the audacity to stand up for himself and want to keep his wallet.
A teenage British burglar has written a badly-spelt letter to his victim, blaming the householder for the crime and saying he feels no remorse.
The letter then notes a number of "mistakes" the householder made, including leaving curtains and a window open.
Might not be advised to leave an open window but just because there is doesn't mean it's an open invitation.
I think we all know who the real dickheads in these stories are. And I'm pretty sure it's not my fault these two gutless wonders are devoid of any morality. Hope you get what you deserve and a little bit extra just because…. I don't know…the wind is blowing in a north-easterly direction today. Why not! Seems to be on par with your brand of logic.
In this last week there have been two announcements about getting young people to stay on in school.
The first is getting teen mums to stay on and finish Year 12 or risk having their welfare payments cut off.
The second is to encourage low income families to keep their kids at school until they finish Year 12. According to this article 41% of kids from low income will not finish Year 12 whereas only 22% of kids from wealthy families do not go onto Year 12.
Why are kids in lower income families leaving school? Because it is more expensive to keep teenagers in school than younger children.
But taking this one step further towards university education, family educational levels are stronger influences on the likelihood of higher education participation than family financial circumstances.
Now Mr M and I went to university so according to the newspaper article and the research article my kids have a higher chance of finishing Year 12 and in fact going onto university studies.
Personally I hope they do. I loved university. It taught me to challenge my thinking; I met a greater variety of people than I had in school or any job; and it was bloody fun. And I met Mr M there 😉
But I can't force my kids to go to uni but I will insist on them finishing Year 12. Year 12 is very different to Year 10. And I don't think I have every come across anyone who has ever said education was a bad thing.
Some may disagree and feel that Year 10 is sufficient. I'm not here to tell you your business. But this is something I feel very strongly about for my children. They will have to come up with a very compelling reason to leave school at Year 10.
And here's just one more financial incentive or punishment depending on which way you look at it. Parents failing to ensure their children undergo the full six-stage immunisation risk losing up to $2100 as part of an expanded scheme that replaces a small carrot with a big stick to increase vaccination rates.
Until now parents were paid a $258 "maternity immunization allowance" as a bonus for completing the immunization schedule. But in recent years immunization rates have been dropping and this year reached a seven year low of 83% of 4 year olds immunized; well below the 90% which assures good community wide disease protection.
And what's the common theme throughout all these stories? Money.