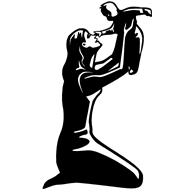 On Tuesday in the middle of the Museum of Contemporary Art where hundreds of people were viewing the Annie Liebovitz exhibition, I dropped my 18 month old son on the ground with an enormous thud.
Even though the exhibition was filled with people, the noise level was fairly minimal and Lucas was starting to fuss. Conscious of the fact I didn't want other patrons disturbed I tried to do something that I've done a thousand times before with great success; I was trying to put Lucas on my shoulders.
But this was the one time it didn't work. He bucked because he didn't want to be put up there. And as I tried to lower him I lost my grip on him.
There was a man a short distance away, who could see what was about to happen, make a lunge towards us to try and catch Lucas; but neither of us were successful and Lucas came crashing down on his back with a loud thud. He looked up at me and he look on his face was pure shock.
I didn't dare look up at anyone else but I could feel the eyes of all the patrons in the room. I picked Lucas up and brought him up to my chest and held on tight. I didn't even stop to thank the man who tried to help. My bad.
I just headed for the exit. I didn't look for my husband or my other children. An MCA employee came up to me and asked if she could help in any way. I couldn't look her in the eye. I thanked her for her offer but told her I was going to take my child outside and look after him there.
Mr M did see what happened and he was right behind me as I headed for the elevator. He tried to take Lucas from my arms to comfort but I refused to let go. I made him cry, I wanted to fix it. I wanted to comfort him. And I don't know if this can be accurately defined as irony but Lucas buried his head into my shoulder wanting to be comforted.
He was not hurt…much. He was probably more in shock from the fall because he stopped crying rather quickly.
And then I started crying.
I cannot accurately describe how I was feeling. But it was a horrible horrible feeling; a heavy pit in my stomach and a tightening in my chest.
I felt stupid, embarrassed and ashamed that I was so careless.
I felt horrible for dropping him. I felt horrible that for those few minutes Lucas felt scared and unsure about what had just happened. And I was responsible for making him feel that way.
"Accidents happen", said Mr M. And I understand that. But I'm usually calm and focused when my kids have been hurt. But not this time; and it's because I feel responsible.
I can only put this down to Mother's Love. Mother's Guilt.
But a dropped child is nothing compared to children who are sick or worse. I send this message to all Mothers who have suffered a worse fate than mine. I can't imagine what it is like to walk in your shoes but my heart goes out to you.